Interesting article in our hometown newspaper today, The Times Record: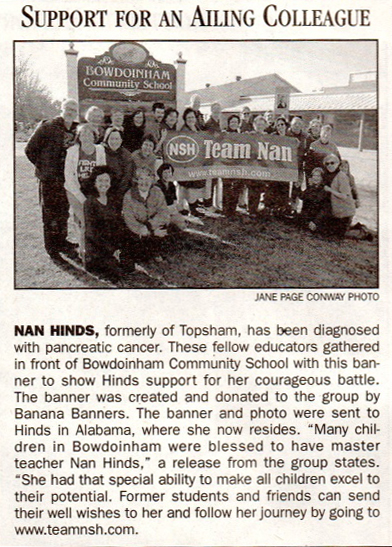 Pretty cool for her to see this in the paper.
I'll admit it's been tough to find words lately to maintain the positive and inspiring spirit that I've witnessed out of my mother.  I guess I'm just not sure how we can describe her current position without turning the message much more dour than it's previously been.
With that, I'm asking for your help.  I want to share stories about mom through the years.  Funny, touching, or just examples of who she is… it doesn't matter.  I want to hear anything that makes you think of Nan Hinds that I can share with people on this site.
As always, we continue to be touched by the outpouring of support we've received through all of this.  I feel guilty for asking for anything else, but any stories we can share would help brighten her days….
teamnanhinds@gmail.com
Thank you all again,
– Todd